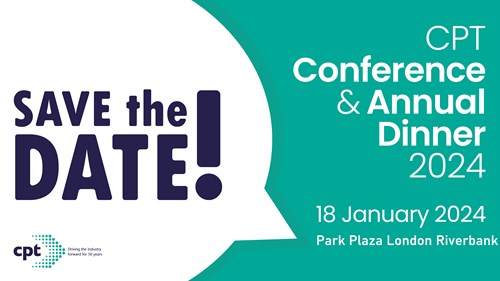 Thursday 18 January 2024 ~ Park Plaza London Riverbank
We are delighted to announce that the CPT Conference and Annual Dinner will take place on Thursday 18 January, at the Park Plaza London Riverbank.
With a General Election on the horizon, there is a renewed opportunity for the bus and coach industry to build momentum as an important part of the solution to many of the challenges the country faces.
Bringing the industry together for our 50th year, the CPT Annual Conference will help members to make sense of the big picture, considering the biggest challenges we face across the economy, politics and the perceptions of our industry, and asking how we can respond positively to these.
The programme will explore themes including partnership working, customer service, innovation, and more, as well as giving you a chance to connect with other bus and coach operators, industry suppliers and key decision makers and influencers.
Ending the day with the long awaited return of the CPT Annual Dinner to London, members are invited to join for an evening to remember.
Further details to be announced shortly, keep an eye out for communications or register your interest now by clicking here.
Accommodation
Those looking to secure accommodation in London early can take advantage of negotiated rates with the venue and a number of other nearby hotels. Please click here to view details now.
Take a look at the 2023 Conference & Annual Dinner highlights here.
Create your own user feedback survey