January 12 2021
You are invited to to join us for the UK Bus & Coach conference which is taking place online on Tuesday 12 and Wednesday 13 January 2021.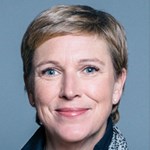 With the keynote address from Transport Minister Baroness Vere (pic), the conference will share best practice and insight amongst operators and suppliers, while addressing many of the issues which will allow the industry to move forward and play a full part in the Covid-19 recovery. It also aims to push the industry to start thinking about how it can rebuild operations and consider doing things differently in a post-Covid world.  

While 2020 has been a year where events have changed quickly, 2021 promises to be vitally important with the publication of the National Bus Strategy and the coach sector looking to rebuild from what has been a tremendously difficult period. 

The UK Bus & Coach Conference will ensure that operators are equipped with the information they need to navigate what is set to be another challenging year.  
Book your places today at the UK Bus & Coach Conference 2021
Programme & speakers
Day 1
Session 1 (1000hrs) The future of bus and coach
As the bus and coach industries continue to rebuild and adapt to changing market conditions, in this session delegates will hear first-hand the Government's vision for buses and coaches.
(Chair) Martin Dean, CPT Chairman
Graham Vidler, CPT Chief Executive
Keynote Baroness Vere, Transport Minister
Session 2 (1115hrs) Working together for our passengers
The pandemic has further highlighted the benefits to passengers of operators and local authorities working collaboratively. The panel will discuss lessons learned from the last 8 months and how to ensure this collaborative approach continues.
(Session chair to be confirmed)

David Bradford, MD, National Express Bus
Pete Bond, Director of Integrated Network Services, Transport for West Midlands
Peter Grant, Head of Bus Regulatory and Funding Policy, Bus, Accessibility and Active Travel Directorate, Transport Scotland

Councillor Anna Richardson, Glasgow City Council 
Session 3 (1245hrs) Coach tourism: changing times for tours, attractions and customers
The Covid pandemic has had a devastating impact on coach tours and operations across the UK. In this session we hear from operators and attractions that have made major changes to their business model to reflect the realities of a Covid world and to continue to attract customers.
(Chair) Steve Whiteway, CPT President
Guy Cordery, MD, JG Theatre Club
Melissa Hackney, Group Sales and Marketing Manager, Royal Horticultural Society
Kevin Mayne, Operations Director, Mayne's Coaches
Tom Jenkins, CEO, European Tour Operators Association
Session 4 (1415hrs) A passenger-led recovery
Millions of people stopped using the bus during the summer of 2020. What will bring passengers back and encourage new passengers to travel with confidence? Our expert panel debates changing customer expectations and showcases best practice in meeting them.
(Chair) David Sidebottom, Director, Transport Focus
Alex Hornby, CEO, Transdev Blazefield
Katy Taylor, Chief Strategy and Customer Officer, The Go-Ahead Group
Day 2
Keynote Address (0945hrs) Welcome to day 2 from the Senior Traffic Commissioner, Richard Turfitt
The Senior Traffic Commissioner, Richard Turfitt, will update conference delegates on work undertaken by the Traffic Commissioners to support industry during the pandemic, including the advice and statutory guidance on the approach to regulation during the restrictions.
Session 5 (1000hrs) Tomorrow's vehicles 
In this open session the industry's leading vehicle manufacturers will discuss the buses and coaches of tomorrow and plans for further engagement with operators to make sure that future vehicles continue to meet the needs of operators and passengers.
(Chair) Ian Warr, Chair, CPT Engineering Committee
Expert industry panel of manufacturers including Irizar, Alexander Dennis Ltd, Wrightbus, Pelican Yutong and Volvo
Session 6 (1130hrs) The impact of Covid on our people and culture
The way we work, how and when our teams want to work and our customers' demands have changed. In this session we consider the importance of maintaining a happy and healthy team, the benefits of a diverse workforce and how the industry must continue to attract and retain talent. 
(Chair) Jane Cole, MD, Blackpool Transport
Kathryn Pulham, FD, Pulham & Sons
Martin Harris, MD, Brighton & Hove Metrobus  
Sonya Byers, Chief Executive, Women in Transport
Session 7 (1300hrs) The changing bus and coach market
Have bus and coach travel and passengers' habits changed forever? The panel will review the exponential increase in home and flexible working, the rise in online shopping and the industry's efforts to attract the next generation of passengers.
(Chair) Carla Stockton-Jones, UK MD, Stagecoach
Alistair Hands, Commercial & Marketing Director UK Bus, Arriva Group
Richard Grey, MD, Grey's of Ely
Simon Quin, Executive Director, High Streets Task Force
Thomas Ableman, Chief Executive, Snap

Professor Iain Docherty, Dean, Institute for Advanced Studies, University of Stirling
Session 8 (1445hrs) A lifetime in passenger transport and a look to the future
routeone Editor Tim Deakin speaks with Giles Fearnley and Janette Bell, Managing Director, FirstGroup​​ about their views on how the bus industry has changed in recent times and what the future holds.
Book your places today
The UK Bus & Coach Conference is FREE for CPT members and local authority officers to attend, and places will be allocated on a first come, first served basis. 

You can register for the conference today by clicking here and submitting your details. There is no limit on the number of people you can send from your business. 

For non-CPT members the cost is £300 plus VAT per person.  

Full joining instructions for this online conference will be sent to delegates shortly before the event. In the meantime if you have any questions about the conference then please email conference@cpt-uk.org or visit http://cpt.events