October 24 2022
As the voice of the bus and coach industry, CPT is committed to raising awareness of the sector and the issues that face our members. 

Here are some of our media coverage highlights for late September and October 2022:
BBC West Midlands, 26th October
"It is a really exciting industry, every day is so different thanks to the people that you meet and the places you can go to," says Hayley Russell, Operations Lead at CPT members @flixbus_uk, when discussing women in transport on @bbcwm: pic.twitter.com/x6YAHOhn3u

— Confederation of Passenger Transport (@CPT_UK) October 26, 2022
Bury Times, 25th October
Bury Market wins 'coach friendly' awardhttps://t.co/pA5pD97Jfb

— Bury Times (@BuryTimes) October 25, 2022
BBC News, 24th October
The UK's hidden transport crisis – seen from the number 16 bus https://t.co/TPh6AVmUJ1

— BBC News (UK) (@BBCNews) October 22, 2022
"According to the Confederation of Passenger Transport (CPT), which represents bus operators, the number of driver vacancies across the country is double what it was in 2019."
Scottish Daily Express, 24th October
Scots bus driver 'thank you' claim put to the test as poll has surprising resultshttps://t.co/7ngULVCCtt

— Scottish Express (@ScotExpress) October 22, 2022
Metro, p2, 24th October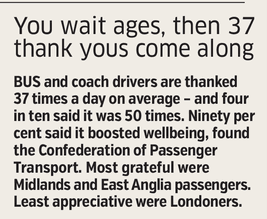 Daily Mirror, p6, 18th October: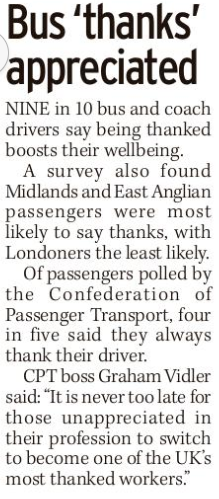 The Guardian, 17th October 2022
Go-Ahead London bus workers secure 10.5% pay rise https://t.co/xDg1mhZiKU

— The Guardian (@guardian) October 17, 2022
"The bus operators' trade association, the Confederation of Passenger Transport, is about to launch a new advertising campaign to attract new recruits."
CPT (@CPT_Scot) said if the Network Support Grant Plus was not continued, 50 routes could be cancelled, cutting services in some areas by one third and triggering more than 200 job losses. Read more via @TheScotsman: https://t.co/POiQC1SiX6

— Confederation of Passenger Transport (@CPT_UK) October 10, 2022
"The network support grant is critical in supporting the #busnetwork and insulating passengers from the consequences of the operational challenges affecting all public transport modes," says @PaulWhite_CPT of @CPT_Scot. Read more via @BBCNews: https://t.co/5nGYnCumLI

— Confederation of Passenger Transport (@CPT_UK) October 3, 2022