February 28 2023
As the voice of the bus and coach industry, CPT is committed to raising awareness of the sector and the issues that face our members. 
Here are some of our media coverage highlights for February 2023:
23rd February
Motoring costs would have to double without major bus funding hike to meet emissions targets, industry warns @CPT_Scot @wpi_economics https://t.co/3hm6b6VGHm

— Alastair Dalton (@AlastairDalton) February 22, 2023
20th February
18th February
Shortly after BRG and the £2 fare cap were extended CPT were mentioned in BBC News, Independent, Daily Telegraph, and Daily Express.
17th February 23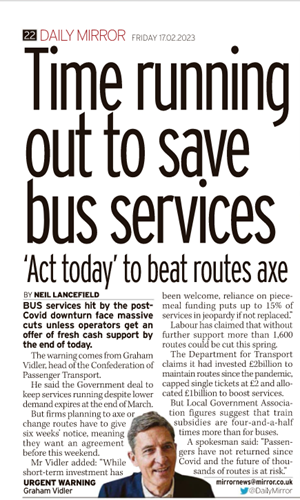 7th February 2023
In the run-up to the Bus Recovery Grant deadline looming, mentions in the Guardian, BBC News​​​​​​​, Independent and Daily Mirror. 

Hundreds more bus services in England under threat amid funding shortfall https://t.co/ox8EQtQ3Il

— The Guardian (@guardian) February 7, 2023
Also reported in: The Daily Mirror, The National Scotland, The Independent, Daily Mail