July 25 2022
CPT is proudly supporting Catch the Bus Month in September organised by Bus Users UK.
We are encouraging all our members to take part in the campaign and help raise awareness of the benefits of bus travel.
Ideas for how you can get involved include hosting:
An in-person recruitment and awareness event
An online Q&A "Ask the Operator" event or competition
A launch event of a special offer to passengers
A photo opportunity with a local MP, Councillor or Mayor
Commenting on the campaign, CPT's Chief Executive Graham Vidler said:
"We are encouraging all CPT members to take part in Catch the Bus Month this September. Not only are nearly 90% of bus passengers satisfied with their journey, bus operators are working tirelessly to minimise fare rises for passengers across the UK. Our services are becoming even better value for passengers, with the added benefits of reducing congestion on the roads and improving air quality. 
"There continue to be encouraging signs for bus and coach travel, with increasing numbers of passengers, and steady growth in demand. As a result, there has never been a better time to join the four million people who travel by bus and coach every day."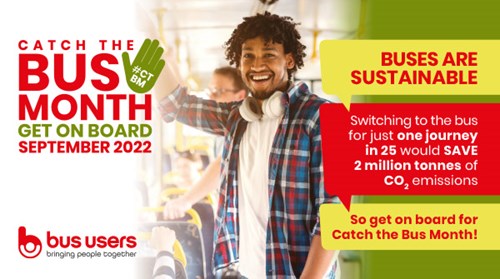 Buses reduce congestion, improve air quality and provide access to life's opportunities. One of the most sustainable forms of transport, a double-decker bus can take up to 75 cars off the road and switching just 1 journey in 25 to the bus would save 2 million tonnes of CO2 emissions.
Buses also reduce social isolation and improve health and wellbeing. Claire Walters, Chief Executive of Bus Users UK the charity behind Catch the Bus Month said: "Buses make a huge contribution to all our lives socially, economically and environmentally. They are also a lifeline for communities providing access to education, work, healthcare, shops and leisure. We want to see more people get on board this September to protect these vital services for future generations."
To find out more about Catch the Bus Month and how you can get involved visit www.bususers.org/catchthebusmonth or email catchthebus@bususers.org