July 27 2023
All of us at CPT were delighted to welcome over 160 coach and bus members to our flagship 'Ride and Drive' event on Monday. Now in its ninth year, no other trade body is able to bring together manufacturers and operators - to test drive and showcase - the vehicles of the future on this scale.
Held at North Weald Airfield in Harlow, what always shines through at this event is everyone's love of buses and coaches. I very much enjoyed my first experience of driving a coach, my first time driving anything larger than a family car. You get a wonderful view of the road and CPT's Operations Manager Gavin Miller made sure I made the best use of my wing mirrors.
It is no secret that manufacturers are working tirelessly at the moment, with vehicles in high demand. That's why we are grateful to the major players of Volvo, Mercedes, Dawson Group, EVM, Daimler and Jones Bus and Coach, who despite these pressures, were still able to showcase some of the best state-of-the-art vehicles available on the market. We are looking forward to seeing those who were unable to join us next year.
It was particularly pleasing to see the increasing number of sustainable vehicles on show, which are right at the forefront of leading the sector's contribution towards net zero. Equally as important, the event was a great opportunity to network and catch up with other industry leaders and colleagues. A massive thanks must go to PSV Transport Solutions who provided the hospitality stand for the evening.  
I also want to express my appreciation to event organiser and CPT regional manager (London, South East and the East Midlands) Karen Tiley for all her efforts in making this event happen. Karen has organised all the Ride and Drive events since its incarnation in 2012, along with Robert Lodge from CPT members Lodge Coaches, in what is her 25th year with CPT. Thank you Karen on behalf of all the attendees and us all at CPT.
We hope those who attended were able to try something new, get a real sense of what is available on the market, as well as see other industry professionals and our friends in the trade media. Pictures and videos from the day will be available shortly on our website and social media channels, so keep your eyes peeled.
Graham Vidler
CEO of CPT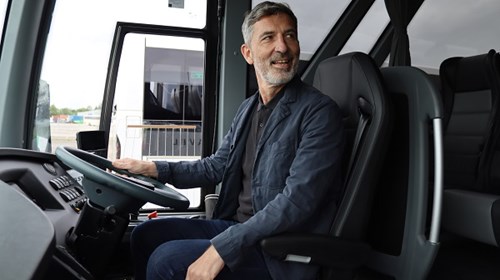 Link to the event photo gallery
A fantastic afternoon yesterday at the @CPT_UK Ride and Drive event at North Weald Airfield.

It was great to catch up with members from the bus and coach industry and showcase our Volvo BZL Electric!⚡🚍#CPTRideDrive23 #VolvoBuses https://t.co/l4haGWZSSq

— Volvo Bus UK & Ireland (@VolvoBusUK) July 25, 2023
Another excellent @CPT_UK ride & drive event at North Weald today. Definitely some optimism in the industry…….. pic.twitter.com/IRECySG0i0

— Matthew Arnold (@KK77470) July 24, 2023
We are here at @NWAirfield for our flagship Ride and Drive event. A great chance for CPT members to network and test drive the latest vehicles. We look forward to welcoming all our members for this fantastic showcase of the coach and bus sector. #CPTRideDrive23 pic.twitter.com/GBlJwQFv1a

— Confederation of Passenger Transport (@CPT_UK) July 24, 2023
Thanks to everyone who attended CPT's Ride and Drive event today at @NWAirfield. Always an excellent showcase for the coach and bus sector. Thanks also to our amazing exhibitors, who displayed some of the best the industry has to offer. See you all next year! #CPTRideDrive23 pic.twitter.com/exZuqqp17C

— Confederation of Passenger Transport (@CPT_UK) July 24, 2023