September 22 2023
Car drivers are being encouraged to swap their cars for the bus or coach today on World Car Free Day.
CPT members are running a range of schemes to promote the bus and coach today. Here are some examples of the schemes taking place across the UK.
Go Ahead
🍃 WORLD CAR FREE DAY 🍃

Friday 22 September is World Car Free Day and we're giving you the chance to win a £100 Metrocentre voucher if you leave the car at home.

To be in with the chance of winning, all you have to do is travel on a Go North East bus this Friday and share a… pic.twitter.com/TgKH8oWnAB

— Go North East (@gonortheast) September 20, 2023
Travel for less across MoreBus, Bluestar, Salisbury Reds, Swindon Bus Company, and Southern Vectis (Go South Coast).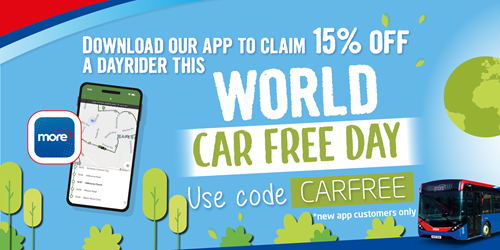 Take a step towards a cleaner, healthier #planet by embracing #WorldCarFreeDay on Fri 22 September! 🌏

Reduce your carbon footprint - Every bus ride helps combat air pollution and global warming. https://t.co/hOLBCtPguK pic.twitter.com/Z2csRVinKH

— Konectbus (@konectbuses) September 18, 2023
Ride the bus.

We are pleased to support this Friday's 'World Car Free Day' which encourages motorists around the globe to give up their vehicles for at least 24 hours.

Research earlier this year revealed London is the slowest city in the world in which to drive and we believe… pic.twitter.com/oMMOlonlxt

— Go-Ahead London (@Go_Ahead_London) September 20, 2023
National Express
Working together with our partners @WestMids_CA @coventrycc and @ZenobeEnergy @nxcoventry now has 130 zero emission all-electric buses in the city -creating a greener and more efficient public transport system for our customers⚡️🚌 #CTBM

Read more 👇https://t.co/4la5zYKOMx pic.twitter.com/YRF2TzOHH0

— National Express UK News (@nxuknews) September 21, 2023
First Bus
First Bus have rolled out Tap On Tap Off ticketing technology, as well as having three all-electric depots in the UK.
ICYMI: Delighted to announce today the completion of our UK wide rollout of Tap on, Tap off technology across our entire fleet - find out more here 👇🏻@Ticketer_UK @LittlepayHQ https://t.co/D9kTFt4WUv

— First Bus (@FirstBusnews) April 27, 2023
Thrilled to announce an extra £3m for 18 new electric buses for Leicester, which will boast one of the UK's first all-electric bus depots with @FirstBusnews

We've invested a total of £22m to decarbonise Leicester's bus fleet as we turbocharge the zero emission bus revolution 🚌 pic.twitter.com/3B02Wo8GkL

— Richard Holden MP (@RicHolden) March 22, 2023
McGills
Friday 22 September is International Car Free Day - we are marking it with fun events on West Blackhall Street. There's also free bus travel with McGills across Inverclyde for the day, so come along and join us!
Programme detail here: https://t.co/BfhahQqVWJ pic.twitter.com/Y7Q18sO5rr

— Inverclyde Council (@inverclyde) September 21, 2023
Stagecoach
Stagecoach Merseyside and South Lancashire are celebrating World Car Free Day by offering the chance to win a year's free bus travel.*
Click here for more details... https://t.co/U3c6uJdyLP
*T's and C's apply #CarFreeDay pic.twitter.com/Gc2UtMtG80

— Stagecoach Merseyside & South Lancashire (@StagecoachMCSL) September 22, 2023
A reminder that today is World Car Free Day! 🎉🚍
You can ride the bus for free all day today in West Berkshire👇 https://t.co/j2miodICkF

— West Berkshire (@WestBerkshire) September 22, 2023
Arriva
🌍🌳Did you know it's #WorldCarFreeDay? Why not help the planet by supporting the cause and use us today instead?

👉Download the Arriva UK Bus App and plan your journey: https://t.co/pc5wrNKV42 pic.twitter.com/yjqcaWQmc2

— Arriva Milton Keynes (@arriva_mk) September 22, 2023