Delivering franchised bus services the Welsh way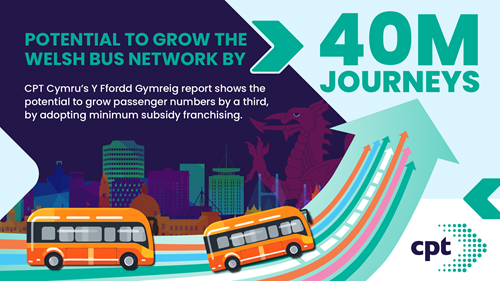 The Welsh bus network could be grown by well over a third, with nearly 40m additional journeys over the next four years, according to a new report.
Proposals published in the report Y Ffordd Gymreig (The Welsh Way), from data analytics specialists Tracsis and leading transport body CPT Cymru, details how adopting the "Minimum Subsidy" model of bus franchising will empower bus operators to invest and improve connectivity for millions of passengers.
When Jersey adopted this model, the bus network reaped the following benefits:
A 13% increase in passengers in the first year
A 38% increase in passengers over the next four years
Enhanced customer satisfaction, with overall satisfaction in Jersey up 18% between 2014 and 2020
And if Welsh Government moves to follow suit, the Welsh bus network could see:
Cost savings from more efficient network design, which then allow operators to keep their fare levels low helping millions with the cost of living.
Numerous service enhancements, including new routes meaning millions of passengers could benefit from increased connectivity.